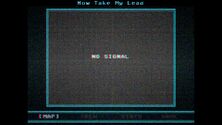 The Polar Dimension is a strange dimension that interferes with the teleporters of Dimension VVVVVV. Sometimes, when Viridian tries to use a teleporter, it transports them and another crewmate there. It is where Intermissions and The Final Level are located.
It's possible to teleport in and out of the Polar Dimension, even though there is no signal.
In the save menu, The Polar Dimension is called "Outside Dimension VVVVVV".