This is where all community content related to Viridian is placed.
His (perhaps, her) gender always was reason to discussion. Through Terry - VVVVVV's creator - said that he didn't revealed his (her) gender on purpose, and later, that he (she) is bi-gender; It wasn't hard to find people showing their point of view. Here I will collect the main arguments.
Terry revealed he is a girl
Edit
"Hi - my name's Terry, and Marina asked me to introduce Viridian to you! Viridian is the playable character in my game VVVVVV. When dimensional interference causes the D.S.S. Souleye to be teleported away randomly, Viridian sets off on an adventure to save them and bring them home. She's intelligent, fearless, and extremely optimistic - Everything a hero should be!"
— Terry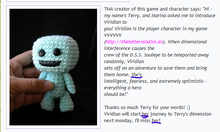 This is one of the strongest arguments, in this image, a "girl who makes dolls about popular games and TV shows" makes a interesting comment, followed by a puppet of Viridian. There she supposedly quotes Terry with the words above. This however, could be easily faked, and in a topic that discuss this evidence, Terry replies "Viridian is Viridian".[cite 1]
This would make the ship more diverse.
Edit
When the game got released and Viridian was considered undoubtedly male, the diversity of the D.S.S. Souleye got questionable. There was 4 men, and 2 woman, and that obviously made "the shiping brats" conclude that 2 men of the D.S.S. Souleye was gay.
And even through it is not that much of a evidence, the fact that with Viridian being female, there would be exactly 3 woman and 3 men at the D.S.S., made people believe that he may be female, even more.
He just looks like a man
Edit
Through it may sound stupid, Viridian just looks like a man in general, his name is quite male. When Verdigris and Vitellary talk with him, they sound like they're talking with a male. And he just acts like a male sometimes (through other times, he also sounds like a woman). This made people believe he was male right away when the game released.
Bi-gender
Edit
In a Twitter post, Terry supposedly said that Viridian is bi-gender.
Ad blocker interference detected!
Wikia is a free-to-use site that makes money from advertising. We have a modified experience for viewers using ad blockers

Wikia is not accessible if you've made further modifications. Remove the custom ad blocker rule(s) and the page will load as expected.